MORE Exchanger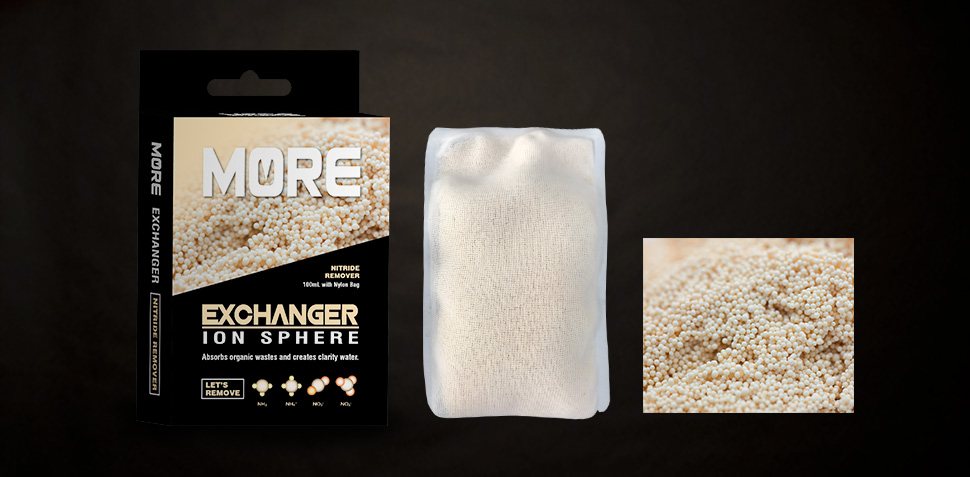 Ion Exchange Resin
Control the organic wastes
Instructions
MORE Ion Sphere uses whole new ion exchange resin. The macroporous resin has outstanding adsorption capacity and mechanical strength. Ion sphere can create clarity water and control ammonia, nitrites and nitrates by its strong affinity for nitrogenous organic wastes. The sphere will not affect the pH value.
Total Exchange Capacity: 4.8 eq/L
Water Retention: 50-58%
Particle Size: (0.315-1.25 mm) ≥ 95%
Appearance: Milk white to light yellow
Ionic Form Supplied: Free Base
Usage
1. Rinse before use. The resin should be placed in the filter.


2. Recommend replacing after 6 month, depending on quantity of the livestock.


3. The color of resin will change from milk white to dark brown when exhausted.


4. Each bag (100mL) treats 500L (130 US Gallons) of water.


Regeneration:


1. Soak in 1:1 bleach water for 24 hours at an ventilated area and Keep out of reach of children.


2. The color will turn to original then rinse well and soak in water with chlorine remover (Stabilizer) for 8 hours. (Water & Remover 25:1)


3. Rinse again, the sphere is ready for reuse


Volume:
100mL with Nylon bag.